Free Car Removal Service for Old & Unwanted Cars in Blacktown!
For more than a decade, NSW wreckers have been offering Blacktown car owners a great money-making scheme. That's right, we will pay you cash for your old car. If you have a car that is broken down beyond repair, is sitting in the garage rusting or you don't want the hassle of having to sell it, you have come to the right place – get cash for car. We offer on the spot payment for all cars and offer free car removal and pick up service throughout Blacktown suburbs:
Acacia Gardens 2763, Arndell Park 2148, Bidwill 2770, Blackett 2770,
Blacktown 2148, Bungarribee 2767, Colebee 2761, Dean Park 2761,
Dharruk 2770, Doonside 2767, Eastern Creek 2766, Emerton 2770,
Glendenning 2761, Glenwood 2768, Hassall Grove 2761, Hebersham 2770,
Huntingwood 2148, Kellyville Ridge 2155, Kings Langley 2147, Kings Park 2148,
Lalor Park 2147, Lethbridge Park 2770, Marayong 2148, Marsden Park 2765,
Minchinbury 2770, Mount Druitt 2770, Oakhurst 2761, Parklea 2768,
Plumpton 2761, Prospect 2148, Quakers Hill 2763, Riverstone 2765,
Rooty Hill 2766, Ropes Crossing 2760, Rouse Hill 2155, Schofields 2762,
Seven Hills 2147, Shalvey 2770, Shanes Park 2760, Stanhope Gardens 2768,
The Ponds 2769, Tregear 2770, Whalan 2770, Willmot 2770, Woodcroft 2767.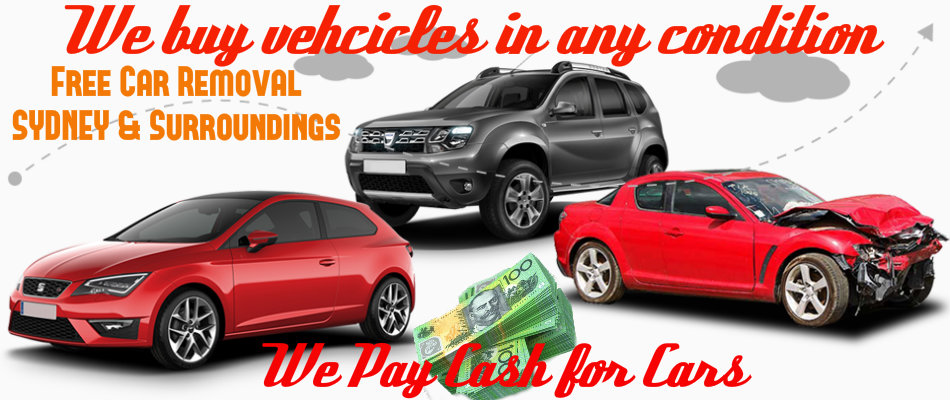 We have years of experience in serving the Blacktown community with eco-friendly car removals. Our expert auto wreckers perform every type of removal, including:
Scrap car removal – this helps you find the right disposal for your scrap cars, irrespective of how old or salvaged they may appear.
Accident car removal – you car got involved in an accident, but the cost of repairing it seems higher than its actual value? No need to worry! We remove all kinds of accidents cars and pay you fairly for them.
Damaged car removal – whether it is flood-damaged, hail or any other damage, we will still remove the car for you.
Junk car removal – it doesn't matter whether the car is still in operable condition or it stalled decades ago, with some of the parts have been salvaged. Simply give us a call and we will come for the removal.
Used car removal – you have an old car you no longer have use for or you just want to get rid of your current used one and pool funds to get a new one, you can always count on us for the best-used car removal rates in Blacktown.
Why Choose Us To Sell Scrap Car Blacktown?
At Sell Scrap Car Blacktown (NSWWreckers), we are a quality car removal. From outstanding car wreckers to custom vehicles, we are a fast car removal company, all the way. We accept all makes and models, Japanese or European:
We perform FREE car removals to any suburb in Blacktown. That includes vehicles of any age or condition.

As a company that is committed to bringing our customers the best services, we assure:
FREE Car Removals
Up To $15000 Cash on the Spot
24 Hour Car Removals Blacktown
Remove Any Size Load (Truck)
Accept Any Make and Model
Accept Any Condition and Age
Running or Not, Okay!
Fully Licensed Auto Trader and Wrecker
Same Day Blacktown Removals
Free Instant Cash Offers
When you choose us, you choose a quality company that offers the very most. We pay instant cash for truck removals. Just give us a call.
SIMPLE YET EFFECTIVE CAR REMOVAL PROCESS
Our Sell Scrap Car Blacktown process is very simple, yet super effective! It involves the following three simple steps-:
Request for a price offer – you can do this via the telephone or by filling in and sending the auto quote form on our website.
Accept or reject the offer – based on the information you give us above, our auto appraisers will work out the value of your car and you will be presented with the best offer for your consideration. The offer has no obligation and you are free to accept or reject it.
Get instant cash – If you accept the offer, we will then schedule a convenient time for you for the pickup, during which we will pay you the agreed amount on the spot.
Terms and Conditions:
1. He/she is the owner of the vehicle should confirm that his/her vehicle is free of any debt, traffic ticket, financing or any other encumbrance.
2. We will need proof of ownership of the vehicle.
3. We will need a photo ID ( Valid drivers license or Passport) for verification and documentation purposes.
Our Service Area